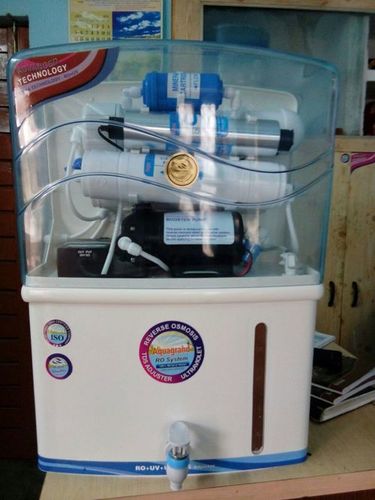 Domestic RO Purifier
Product Code : 20
Product Description
Having vast industrial knowledge of domain, we are offering a quality range of Domestic RO Purifier. The Domestic RO Purifier we offer is recommended for their availability in various sizes and specifications. This purifier is uniquely designed in observance with industry quality standards using best quality raw material and advanced technology. Prior dispatch, it is quality checked on different parameters set by the industry. Our clients can purchase this Domestic RO Purifier at leading price form the market.
Domestic RO Purifier Details :-
Minimum Order Quantity: 5 Unit
Certification: ISI
Capacity: 10-15 L
Installation Type: Wall Mounted , Table Top
Purification Type: RO , UV, UF, TDS Controller
Purifier Type: Electric
Purification Capacity(Per Hour): 12 LPH
Filter Cartridges: Sediment, Activated Carbon, Post Carbon
Features: Auto Shut-Off, Smart Indicators, Filter Change Alarm, UV Fail Alarm
Product Features :-
Easy installation
Accurate dimensions
Rugged Built
Longer functional life
Easy mounting
Suitable for all sources of water
Domestic RO Water Purifier Specifications :-
Device :-
Gross Dim: Height x Width x Depth: 430 mm x 300 mm x 260 mm
Net Dim: Height x Width x Depth: 390 mm x 265 mm x 225 mm
Weight: 4 Kgs
Water storage capacity: 4 Litres
Pressure rating: 5 psi to 30 psi
Purified water flow rate[Average] : 350 ml – 750 ml/min
Purification technology: Carbon Sediment Filter™ and Activated Carbon Filter™, Sediment Plus Filter, UV Chamber
Material of construction: Food safe, non-toxic, engineering plastics
Germkill Kit™ :-
Material of Construction: Food safe, non-toxic, engineering plastics.
Purification capacity: This has been designed to typically give 3000 litres of water under tested conditions of 20 psi input pressure and 25°C temperature.
Expiry period: Three years from packaging.
Germkill performance standard: Meets stringent criteria of Environmental Protection Agency, EPA (USA) for harmful virus and bacteria removal.
Contact Us
Plot No. 10, Madiyaon Gaon Road, Tedipuliya Kursi Road, Near Awadh Club, Jankipuram Garden, Jankipuram, Lucknow, Uttar Pradesh, 226021, India